Automatic system(AGV) to make car parking easier at airport
2019-09-24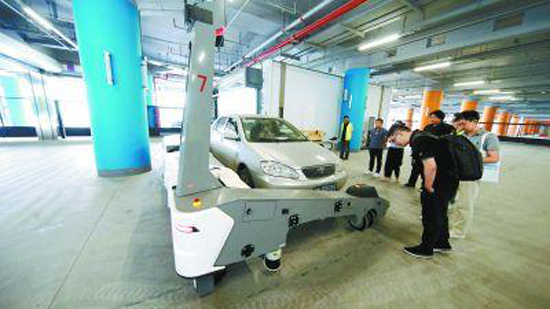 (ECNS) - Beijing Daxing International Airport, which will open on Sept. 30, has adopted advanced technologies-AGV that will make car parking at the site much easier, Beijing Daily reported.
Shougang S-Park, operator of the mega airport's car park, said passengers can leave their car at one of four transfer stations, confirm details on a screen to receive a QR code, and then allow the automatic system AGV to handle the rest of the work.
The system will recognize the size of a vehicle and move it to an appropriate parking lot, without any involvement from human workers throughout the entire process. When the car is parked, the driver will receive a message to their cell phone detailing the number used and the QR code needed to pick up the car. The time required to complete the car parking is approximately two minutes.
A driver can also book a time to have their car returned and the robotic system will move it back to the transition station.
Li Yu, deputy general manager of car parking system developer LTSMART, said the robot can verify its position 10 times a second to control the distance error of 4mm more or less. Sensors on the system will detect barriers 100 times a second to ensure no collisions during movement.
The automatic car parking system is temporarily available in one of the car parks at the airport, which together has 4,238 parking lots, including 630 for electric cars to charge.
Sourced: Ecns.cn